GB Com is thankful to the Lord for His sustenance and mercy on this local ministry. The collaboration between 13th Coy and Life BPC is into its fourth year. How time flies! But not without growth that the Lord has so marvelously wrought in the lives of the girls.
The following are some of the highlights that took place for the first half of 2017: 
JANUARY
CCA OPEN HOUSE 2017 @ SEMBAWANG SEC SCHOOL:
We are thankful for 6 new recruits who joined the squad this year – 4 Sec 1 girls, 1 Sec 2 girl and 1 Sec 3 girl.     
FEBRUARY
PATCH WORK TO MARK GB 90TH YEAR IN SINGAPORE:
Many girls participated in this project though some were not chosen based on the ability to sew. Though we wished that more time was given yet we are thankful that we could finish this project led by Sis Lillian Lim and the team comprising Christina Low, Teoh Gaik Lee, Phoebe Wong and June Tan.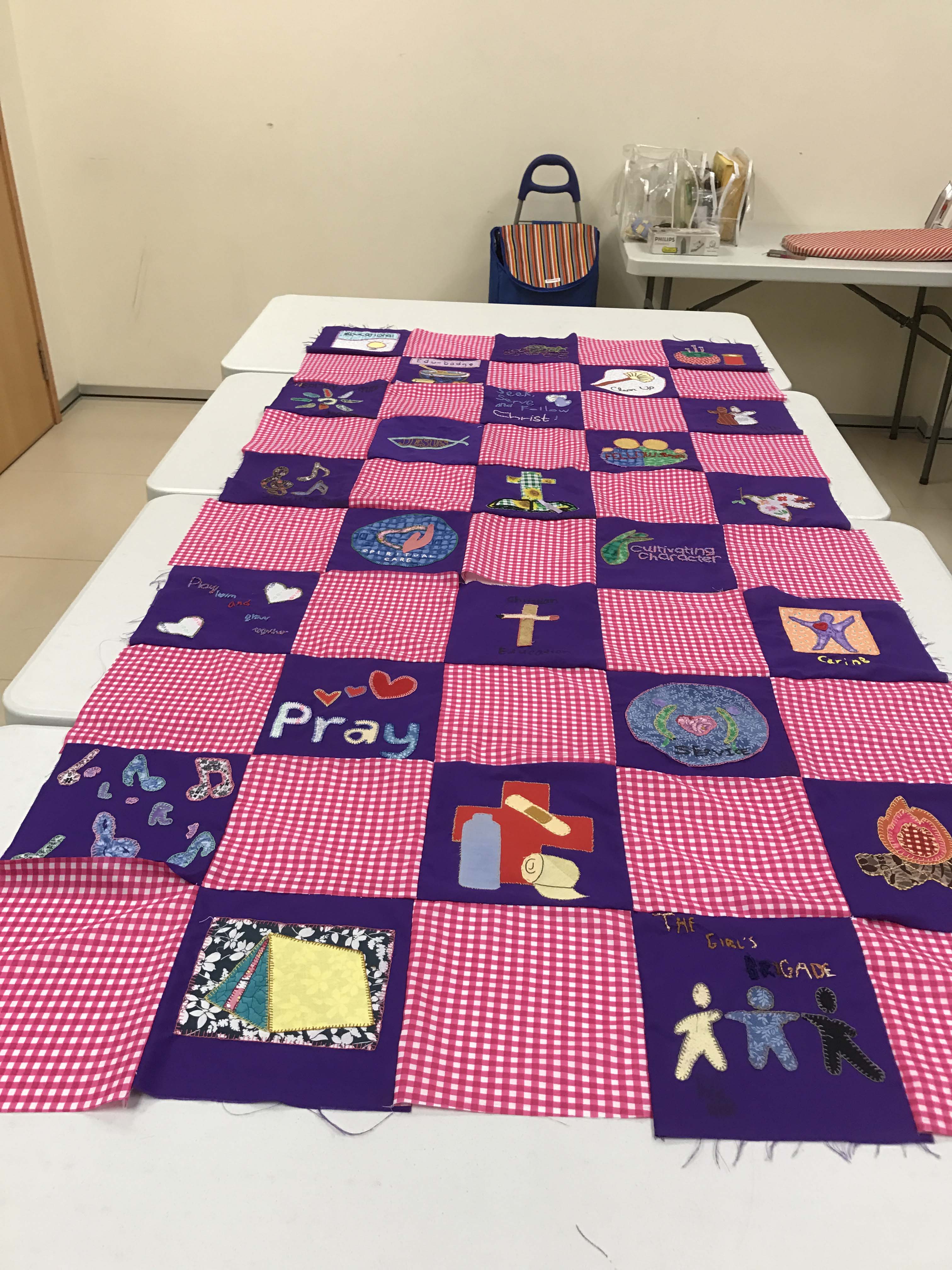 In Church
 
In School

In GBHQ
FEBRUARY & APRIL
DEVOTIONS @ SEMBAWANG SEC SCHOOL:
Devotions for 2017 are drawn from Women of the Bible – (a) Patriotism of Deborah (b)Faithfulness of Ruth (c) Courage of Esther (d) Handiwork of Dorcas (e) Faith of Rahab. Sis Song Ching gave the first devotion in March and Sis Ai Lin in April.
MARCH
ENROLMENT SERVICE @ LIFE B-P CHURCH 25 MARCH 2017: 
This year, preparations which included uniform alteration and choir practices took place prior to the actual Enrolment Service in Life BPC on 25 Mar 2017.
Praise God that some of the parents of the Sec 1 recruits came to witness this ceremony. Two Senior Sec 4 students, Asheela and Li Ping gave their testimonies of how GB has developed and shaped their character.
 
Sis Theresa on sewing buttons
 
Sis Hui Chuien on Hymns and songs
  
Ready for inspection
  
Colours march-in
  
Parents gracing the occasion
  
Sgt. Asheela Sivarajan
  
Sgt. Ang Li Ping 
The 13th Company 2017 with Mr Jimmy Lee (Guest of Honour), Rev Charles Seet (Chaplain), Eld Sng, Mabel, Ms Fong Wanxian (Captain), Ms Phang (teacher), Ms Joy Ann (Lieutenant), and June Tan 
APRIL
EASTER CELEBRATION @ SEMBAWANG SEC SCHOOL 15 Apr 2017: 
Rev Daniel Khoo gave the Gospel message to 18 girls and 5 alumni in Mandarin with Sis Hwee Ing assisting in translating to English.

Mrs Mabel Choong chairing


Rev Daniel and Sis Hwee Ing 


The girls and alumni

MAY
FIRST AID CAMP @ SEMBAWANG SEC SCHOOL: 
First-aid trained nurses who are also members of Life BPC conducted the 2 day First Aid Course for 15 girls on 25th and 26th May 2017. The objectives and curriculum set by GBHQ were met during this camp and the girls were trained in the various types of bandages fit for the respective injuries as well as resuscitation. They thoroughly enjoyed the sessions. 
Nurse Cassandra on injuries

Successfully bandaged


Nurse Esther on resuscitation

The Practice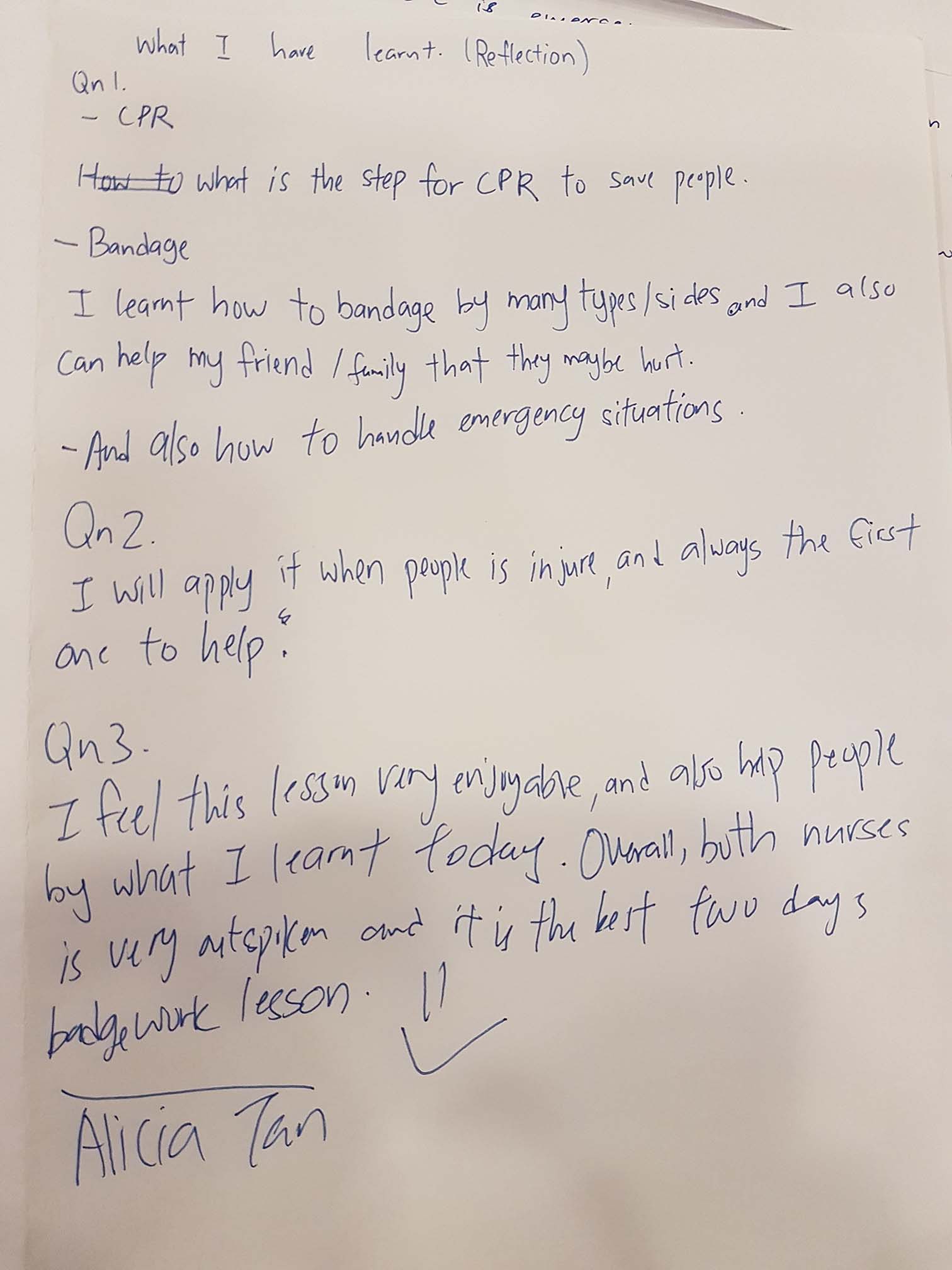 End of camp feedback from some girls